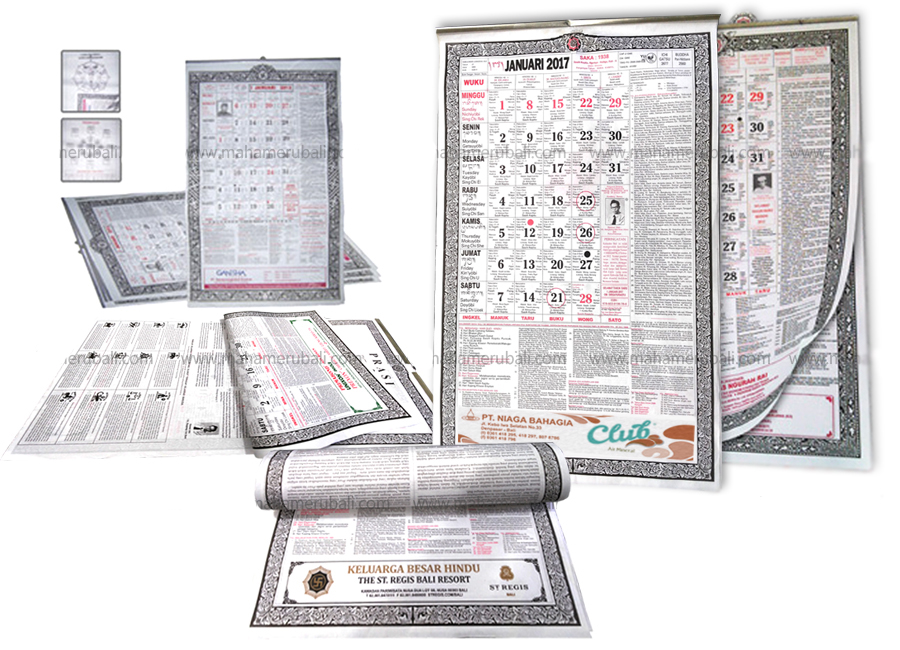 Bambang Gde Rawi, IBG.Budayoga, Kt. Reta, I Gede Marayana
Balinese Calendar Printing 2021
Balinese Calendar is one of the smartest ways to make sure your business or brand is seen by people each and every day. That's why many businesses in Bali give away free wall calendars to their customers. When you compare how many people see your company's branding every day to the affordable cost of Bali calendar printing, it is one of the least expensive ways to promote your local business in Bali.
These Bali Calendar usually used by the local company in Bali such as : Bank, Government, Organization, Village Correctional Institutions, School, Cooperatives, LPDs andUniversities.
These Balinese calendar are only available in one standard size : 50 x 32.5 cm printed on 2 color ( red & black).  You can add your company logo at the bottom of these calendar ( 1-4 color printed). There is a wide selection authors by : Bambang Gde Rawi, I Gusti Nyoman Suartha, IBG.Budayoga, Kt. Reta and I Gede Marayana
MahaMeru Printing Bali as one of the most experienced printing presses in Bali is always helping you to meet the needs of calendar printing procurement for 2018.
Although different compilers, core & display and its contents almost no significant difference. The difference in general to the concept of the formulation of  "Ala Ayuning Dewasa" is the kind of to finds a good day or called "Padewasan (primbon)" in accordance with the Hindu beliefs in Bali.
All types of calendars that we offer are included printing for company logo and contact address. For this Balinese wall calendar, logo and company name will be printed on specified place / column.
Pre-Order for the author "Bambang Gde Rawi"
Period I : 1 – 31 July
Timeframe : November (Week IV) – December (Week III)
Period II : 1 – 5 August
Timeframe : December (Week IV) – January
Order Note :
Require 50% Deposit and fullpayment upon completion (before item shipped)
Free delivery for Denpasar & Badung area, outside of ​​Bali will be use third party expedition (shipping cost pay by customer)