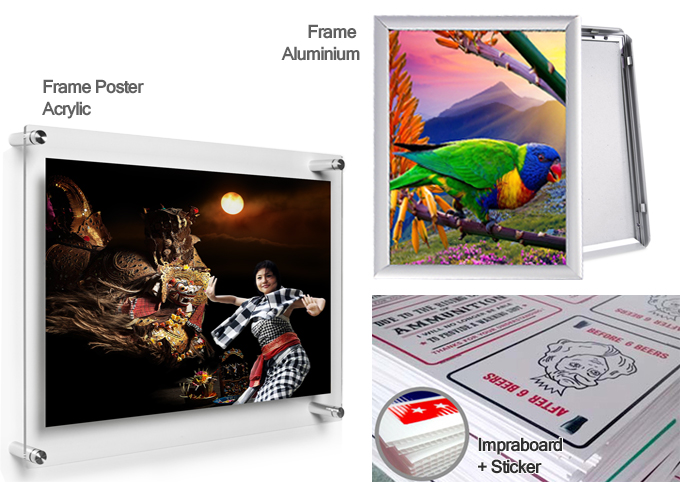 Acrylic, Photo Paper and Impraboard Poster Printing
Poster Display at MahaMeru Bali
When you have restricted wall space but want to make a huge impact with your graphic marketing materials you need a wall standing poster display.
Posters are one of the absolute best marketing tools out there. Poster printing is a fast way to get the word out to the masses no matter what size your business is and the economical nature of poster printing makes it the perfect method for business marketing. MahaMeru Bali posters are sure to stand out with our state-of-the-art printing presses and thick quality material.
Poster Printing Options
Use small posters to display opening hours or announce events on local notice boards. Larger posters are great for grabbing attention in shop windows or in bigger spaces. Wherever you display them, posters are an eye-catching way to promote your brand and get your message across. We offers custom poster printing in a variety of sizes: A3, A2, A1 and A0 format.
IMPRABOARD POSTER
Impraboard poster are perfect for your trade show, conference, business event or sale, or for wall prints and stand board photo. Economical to print, custom posters are one of the best-kept marketing secrets.
These are durable and lightweight, making them also ideal for fundraisers, corporate events or retail displays. Mounted posters are also an eye-catching way to decorate your restaurant, coffee shop, lobby, office space or home.
Mounted posters are an economical option for branding your business, nonprofit or event. This posters are ready-to-hang and can be used in creative applications.
ACRYLIC FRAME POSTER
A high-quality wall-mounted clear acrylic photo frame, the content poster inserted in the center it will leave clear border all around.
This display is designed can be used either portrait or landscape format by sandwiching your photo or print between the two sheets of 3 mm clear acrylic (2 layer).
It is supplied with four polished aluminium supports along with four screws and wall plugs The edges of the acrylic is finished with polished edges all around for a high-quality finish & when delivered will have a tinted protective film on both sides that will need to be removed to reveal the clear acrylic Ideal for use around the home, office or retail environments.
ALUMINIUM SNAP FRAME
Aluminium Snap frames are ideal for all business environments as advertising or photo / poster displays.
They are designed to be opened from the front making it easy to change display content. A single poster is placed behind our protective plastic sheet and four sprung loaded profile clips are clipped down to grip the poster firmly in place.
Frames can be used Landscape or Portrait. Fitting is simple. Screws and wall plugs are provided.
4 Screw holes are located underneath profiles for secure and perfect seem less mounting.