File Requirement & Guidelines
Artwork Format For Offset & Digital Print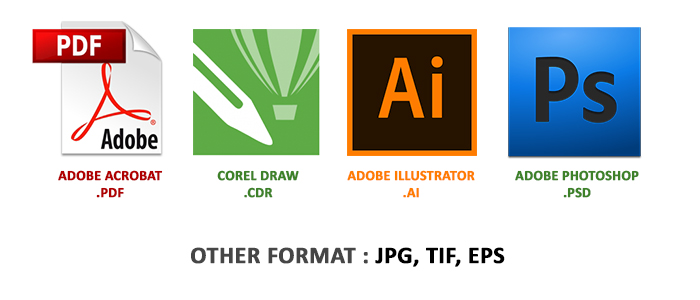 We recommended to send your file to email, for bigger file size can upload to file storage provider like as dropbox, box, drive etc.
Files are delivered in CMYK  color format ( Not RGB and Pantone color)
Suggested file type to get the most maximum result :

Photography: which contains more pictures than text, should be send the files as JPG format, within resolution of 300 dpi. Try to use images / pictures with good quality, not broken and blur.
Graphic & vector design : Should be in format CDR ( CorelDraw ) , PDF and AI ( Adobe Illustrator ), make sure to convert Fonts to curve / embed fonts . It is not recommended to send files in JPG format , because the file that contains a lot of text, graphs outline will appear blurry and not sharp , especially if the file will be print in to larger format .
Document Prints : For printing booklets, magazines, tabloids, it is advisable to send the file in PDF format. Do not use in Microsoft Office ( word, excel , power point ) files format.
Banner Printing : large size banner can transmit into JPG file format, set the file resolution to 100-200 dpi . Set the compression level so that the results remain smooth.

Print outs on any material experience the difference, it depends on the level of material thickness, texture and types.
MahaMeru Bali
Prints Price Quotation
Asking for order and price quotation can be sent via email by providing the detail of order information, such as : type of order , Total order , the size , number of pages ( for types of booklets , tabloid ) , color prints ( Full color or B / W ) , materials , and so on
If the client already have the print sample including for the materials used , color and concepts that have been printed, client can send those sample to MahaMeru Bali.
Before performing the printing process includes editing , layout and proofing prints, firstly the client must be agree with the cost of printing.
MahaMeru Bali will send the Invoice link via email to be approved. If it necessary we can also apply the Contract Letter (for special project) along with other supporting documents including letters of tax, licenses which can then be signed by both parties .
Payment can be made through Wire Bank Transfer or Credit Card / PayPal gateway payment.
In a period of 1 x 24 hours after payment received and after all the final files has been received by MahaMeru, process orders will be carried out.
Finishing time starting from order completion approves the proofing results and determined by the quantities and types of orders
Orders will be delivered directly by MahaMeru Currier for Free ( for range area of Denpasar , Sanur , Nusa Dua , Kuta and Ubud).
Free delivery applied only for order more than IDR. 1,000,000. For outside Bali and international destination, the order will be shipped via expeditionary service / cargo ( the cost of shipping services is determined by the weight of the goods and the delivery destination )